Cakes & Bakes
A Right Royal Round Up
Well, when I came up with the idea of running a bloggers Jubilee baking competition I hoped that I might get enough entries to make double figures, but I would never have predicted such an incredible response. I had no less than 44 entries all of which are suitably regal and examples of amazing creativity. I LOVED receiving all of the entries. They put a smile on my face pretty much every day that this competition has been running. Thank you so much to everyone for taking part.
The lovely Vanessa Kimbell who is judging this competition will be taking a look at this round up and letting me know in the next couple of days who she picks as winner.  I will then announce who has won in a special blog post next weekend, so watch this space…
Before we start, I might suggest that you grab a cup of tea or coffee and maybe a slice of cake (it's got to be done) before you settle down and enjoy the wonderful selection below.  You could be here for some time.
First up is Olivia from Liv a Little Bakery who entered the cutest little toy solider biscuits I have ever seen.  My girls would snap those up in an instant.  Having made a few iced biscuits myself I know how much work is involved in making something like this.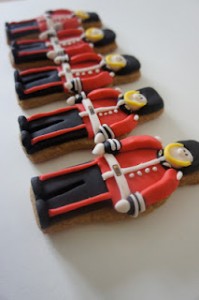 Another keen Jubilee baker Elaine who writes Fun as a Gran blog.  Elaine introduced me to her blog by entering this competition and have to say I have really enjoyed reading her posts.  She makes me smile.
Tagged Appliances online, bloggers Jubilee Baking Competition, Vanessa Kimbell