Bake Club
'Bake it Pink' – June Bake Club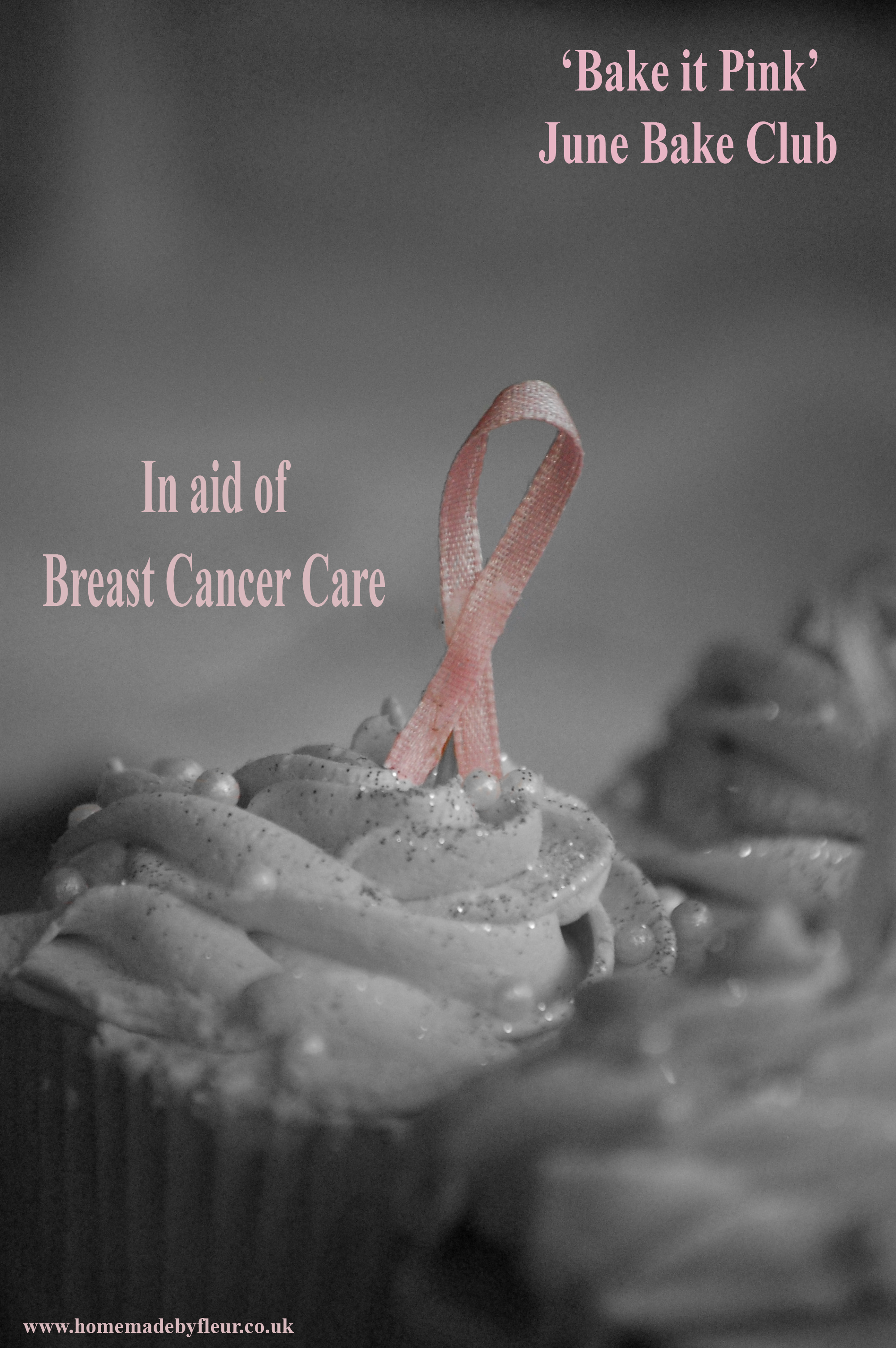 It's been a very busy week in the real world for me, and I have missed writing for my little blog but you will be pleased to hear that the baking did not stop and I now have about 5 blogs post ideas stacked up to write and publish!
The first exciting thing to tell you is that I had my 4th Bake Club last week.  It was rather special as I was raising money for Breast Cancer Care and all the cakes/bakes had to be pink.  It was a fabulous evening and I would definitely go as far as to say it was my best one yet.  I ordered the free Breast Cancer Care 'Strawberry Tea' fundraising pack before the event and it was full of fun things including stickers and the little donation box you can see in the picture below.
Hosting a charity Bake Club brought such a great atmosphere to the evening and having my friend Anna come a long and tell her story of being diagnosed with Breast Cancer in 2010 was extremely inspiring and very moving.  As I stood with the other ladies and listened to Anna speak with such openness and courage I felt incredibly proud to call her my friend.  She spoke about the symptoms, her treatment, where she has found the strength to get through such an ordeal and most importantly how to be breast aware.  We raised a total of £45 which I am thrilled about!
I hope you enjoy looking at all the wonderful pink bakes that we got to share on the night.
I decided to make a full size version of my rose and pistachio cake.  It's suitably pink, and one of my favorites.
New member Cristina wowed us with her marvelous 'space age' creation which certainly fit with the pink theme.  Each decoration around the cake is carefully piped pre-cooked meringues.
Anna made these wonderfully fun 'pink champagne' ice cream cone cupcakes.  Such a great idea and perfect for parties.  My girls were very happy the next morning when they saw that I had saved them one each.
I loved these cuppies with the pink breast cancer ribbon from Amy.  They tasted amazing too.
These little cupcakes were a real treat from Abi.  Meringues on top, strawberry buttercream and a red velvet sponge.  Divine!
Finally a gorgeous selection of pink cupcakes and pink shortbread from Donna which looked stunning on a matching pink tiered stand.
Thank you to everyone who came, brought cake and donated but special thanks to Anna for being an absolute star.  I'm now planning to host a charity Bake Club every 6 months.
There was also another charity who benefited from all of our pink baking.  You may remember me mentioning that I was interested in finding a suitable place to donate left over cake to as there was always so much at the end of each Bake Club. Well thanks to a lovely new member our left over cake was donated to The Harris Hospice in Orpington Kent.  This meant that members took a much more conservative amount of cake home with them and the next day any remaining cake was whisked off to put smiles on a few extra faces.  This little addition to the Bake Club has made a very big difference and I certainly hope to be able to offer this option each time.
Exciting news for the July Bake Club
I'm introducing a mini masterclass as part of the next Bake Club.   I plan to pick useful baking techniques or skills that can be covered in about 20 mins or so.  It might not always be me, other members would be welcome to contribute or I may get people in to talk about something specific.  The aim is to share knowledge and hopefully achieve some learning too so members have something new to try out at home.
Details:
Date: Wednesday 18th July 2012
Time: 8pm-10pm
Location: Near Sevenoaks, Kent
Cost: £5 per person
Theme:  Back by popular request, 'chocolate'
Book your place: Please email [email protected]
Mini Masterclass: Watch how to create this multicoloured iced cake.  Easier than it looks and very effective

Coming next on the Blog
If you cant make my July Bake Club, I'll give you my new chocolate and coffee cake recipe with mutilcoloured icing inspired by Sweetapolita.
Subscribe in the top right corner of this page and never miss a post
P.S. Don't forget to submit your afternoon tea Forever Nigella entries before the 28th June 2012.
Tagged Bake Club, Breast Cancer Care, cupcakes, ice cream cone cupcakes, meringue topped cake, mini masterclass, Rose and pistachio cake, Strawberry Tea