Breakfast
Carrot Cake Style Breakfast Pancakes
Oh breakfast how I love you,
I eat you every day,
My issue is I find you dull,
Got to jazz you up some way,
I've come up with a cunning plan,
To get me out of bed,
A little treat for when I wake,
Yes that's right, a slice of cake!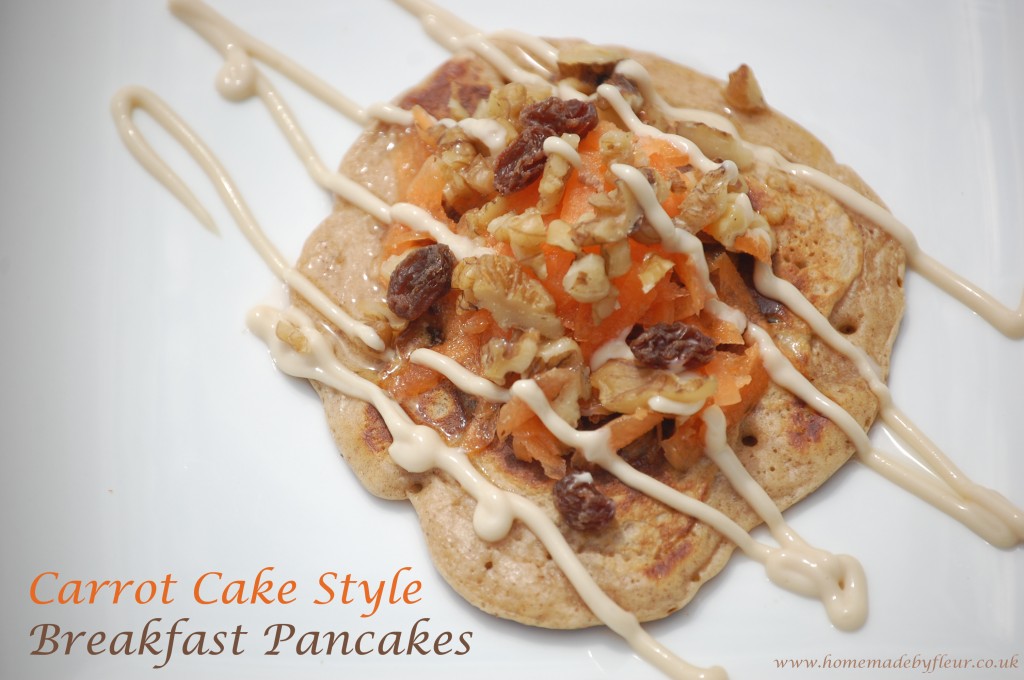 Well, not literally, but these pancakes are inspired by all the lovely ingredients that you find in carrot cake, and make a super treat for breakfast, or in fact any time of day.  They are pretty healthy too with minimal sugar, dried fruit, fresh vegetable and nuts all incorporated.  My 6 year old LOVED them and I was chuffed to bits given that she refuses raw carrot any other time.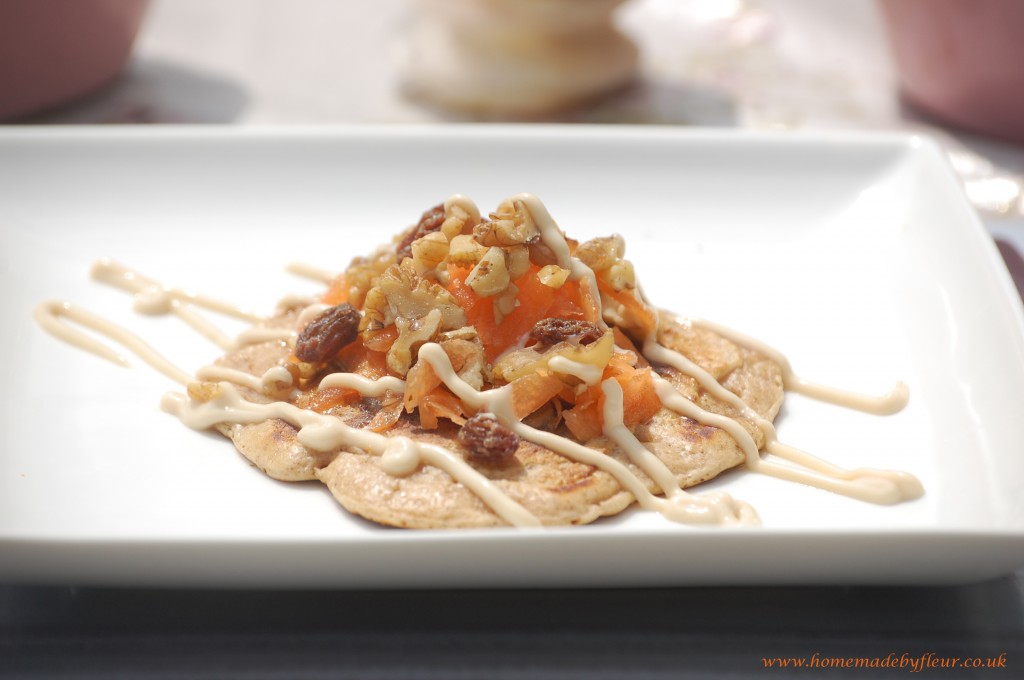 My ideal for these pancakes is to make them on a weekend morning, (weekdays are far too hectic) and to enjoy them 'al fresco' if the sun is shining.  I reckon I can fool myself into thinking I am on holiday, if only for 5 mins before someone shouts 'MUM'.
And what an amazing change from cereal or toast these make.  Something a little bit different to kick start your day.  If you are making for more than one or two people I would suggest cooking a batch of pancakes and then filling up little ramekins with the toppings to allow everyone to create their own 'cake' on top.  I even put the sweet cream cheese sauce in a squeezy bottle to make it easier to drizzle on.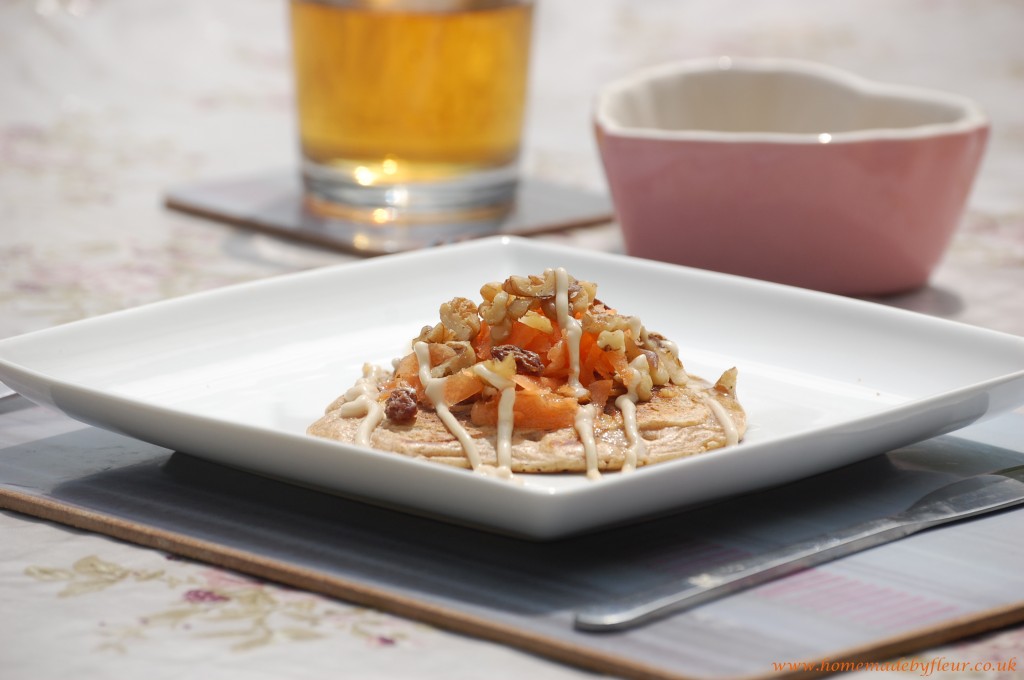 You can even keep any spare batter in the fridge along with remaining toppings and treat yourself all over again the next morning in 5 mins flat. Amazing!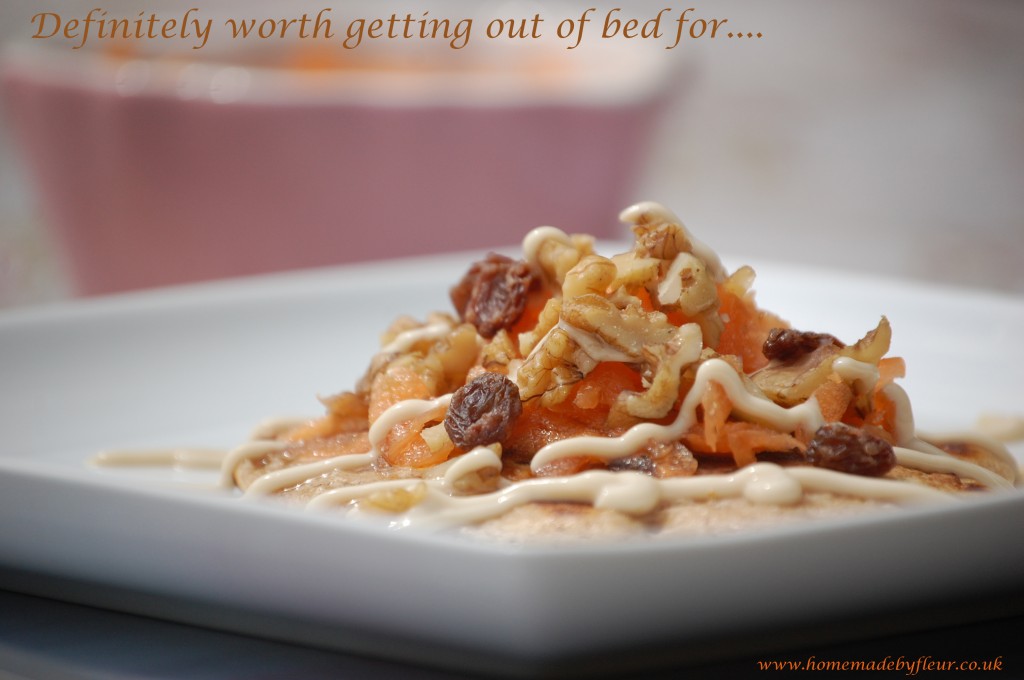 I should thank my sister-in-law Alison who told me about a blog she follows called 'Oh She Glows' where there is a recipe for carrot cake oatmeal. It got me thinking and I came up with these pancakes as my preferred variation.
| | | |
| --- | --- | --- |
| Carrot Cake Style Breakfast Pancakes | | |
Author:
Ingredients
Pancake Batter
1/2 tsp white wine vinegar
150ml milk
110g plain flour
1/2 tsp bicarb of soda
1 egg
1 tbsp vegetable oil
1 tbsp agave syrup
1 tsp ground cinnamon
50g raisins
Toppings
100g grated carrot
50g chopped walnuts
100g light cream cheese
25g fairtrade light muscovado sugar
20g raisins
Drizzle of agave syrup
Instructions
To make the batter:
Add the vinegar to the milk and set aside
In a bowl combine the flour, cinnamon and bicarb of soda
In another bowl add the egg, raisins, oil and agave syrup and mix
Combine all the ingredients in one bowl and whisk until smooth
Lightly grease a frying pan then let it heat up on the hob
Add approx 2 tbsp of batter into the pan and when the bubbles start appearing on the pancake turn over and cook the other side. These pancakes are thicker than normal French pancakes. You will notice that the batter is thicker also
To make the sweet cream cheese sauce mix the cream cheese and sugar in a bowl with a metal spoon until smooth
Once pancakes are cooked top with grated carrot, chopped walnuts, a few raisins and drizzle the sweet cream cheese sauce and a small amount of agave syrup (optional) over the pancakes. Eat straight away
I would like to send this over to Helen at Fuss Free Flavours  who is running her Breakfast Club this month with the theme of fairtrade.
Tagged Breakfast Club, carrot cake pancakes, carrots, cinnamon, cream cheese, fairtrade, Fuss Free Flavours, raisins, walnuts
Related Posts