Breakfast
Honey Roasted Pear & Almond Breakfast Muffin
I had quite a task on my hands this week, and it was to create a breakfast recipe which included
almond milk
!  This is a totally new product to me so when I came to bake my recipe it's fair to say that it was a complete experiment.  Why am I using almond milk?  Well, I'm entering a little competition run by
Foodies 100
in partnership with Almond Breeze as I quite fancied the challenge and the prize of a weekend away at a hotel was too tempting to resist.
The brief was that our recipe had to be suitable for breakfast and that entries will be judged on their orginality.   So on went the thinking cap and the ideas slowly starting coming.  I mulled over them for quite a few days before I eventually decided to go with my very own breakfast style muffins.
The inspiration for my honey roasted pear and almond breakfast muffins was the almond milk itself. I thought about what flavours/fruit would go well with almond, and pear came top of my list.  To highlight the almond element I added ground almonds as well as almond extract into the recipe.   I was thinking frangipane, but in a muffin and to make it suitable for breakfast I added some lovely British oats.
It was a bit like the scene from George's Marvelous Medicine where he grabs all sorts of ingredients from around the house and mixes it all in.  I too wanted to create something amazing.  The only difference being that my ingredients were more carefully selected and only from the kitchen.
The batter was made.  Will it work?  Is the almond milk too thin to substitute cows milk when baking? What will they taste like? Into the oven they go.  Oven light on for peakage but too high up to see.  Tick tock, tick tock….RRRRIIIINNNNGGGG Time's up and this was the result:
A gorgeous set of perfectly cooked muffins that taste superb.  The almond milk worked very well indeed and I certainly could not tell any difference in texture from muffins I have made in the past with cows milk.  The advantage here is that Almond Breeze contains absolutely no cholesterol or added sugars and it's really low in saturated fat, making this muffin quite a bit healthier than the normal muffin.  I kept the sugar quantities low and allowed the honey roasted pear to take centre stage and sweeten these muffins up.  All in all I'm properly pleased with these.  I've frozen a few to have over the coming weeks now that the kids are on holiday and there is not such a rush in the mornings.
UPDATE: Aug 2012 These are now competition winning muffins as I won the prize! Can't wait to go on my weekend away with hubby.
| | | |
| --- | --- | --- |
| Honey Roasted Pear & Almond Breakfast Muffin | | |
Author:
Total time:
1 hour 10 mins
Ingredients
250g self raising flour
100g soft brown sugar
1/2 tsp bicarbonate of soda
220ml milk (I used almond milk)
90 unsalted butter softened
100g oats
50g ground almonds
1 tsp almond extract
3 med eggs
3 pears peeled and cut into small cubes
3 tbsp honey
25g butter, melted
Handful of flaked almonds (optional for decoration)
12 muffin cases
Instructions
Turn the oven onto 180c/350f/gas 4
In a small saucepan add the 25g butter nad the 3 tbsp of honey and melt together
Put the cubes of pear into a roasting dish and use a pastry brush to cover the pear with the melted butter and honey mixture
Place in the oven for 30 mins
Add the flour, bicarbonate of soda, sugar, oats and ground almonds to a bowl and stir to combine
In a seperate bowl add the milk, butter, eggs and almond extract. Stir to combine
Add the wet ingredients to the dry ingredients and stir together with a wooden spoon until just mixed in
Add the honey roasted pear to the muffin batter and gently stir in
Spoon the mix into the muffin cases and cook in the oven at the same temp as the pears for 20 – 25 mins
Cool on a wire rack and sprinkle with flaked almond and icing sugar
Notes
The best pears for roasting are ones that are a little on the firm side.
I think these muffins would be perfect to sell at a cake stall or fete too, and this happens to be the theme for this month's July tea time treats.  It is hosted by Karen from Lavender and Lovage and Kate, from What Kate Baked.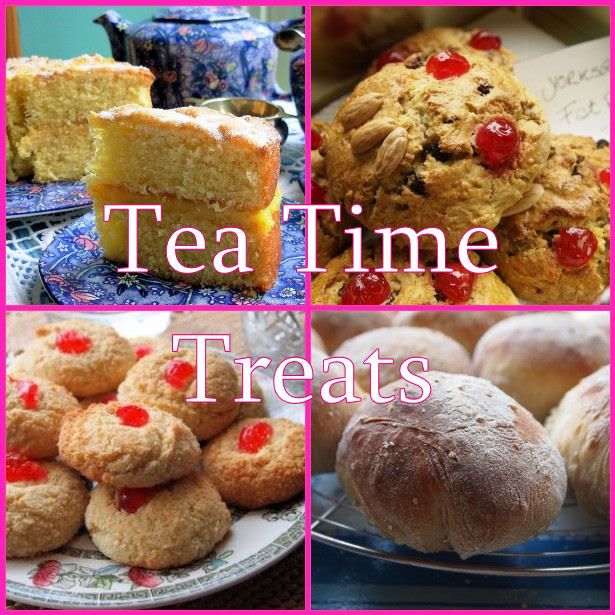 I'm also entering this into the Breakfast Club challenge hosted by Helen from Fuss Free Flavours.  This month the theme is holidays and I think my muffin's are great for packing in your bag if you are up early to start your holiday.
Tagged Almond, Almond Breeze, breakfast muffin, British oats, foodies 100, honey, honey roasted, Pear